St. Maria Goretti Church is open for Mass and Communion as follows: Saturdays at 4:00 P.M., Sundays at 10:00 A.M., Wednesdays and Fridays at 9:00 A.M. For those not attending Mass but wanting to receive Communion, please arrive in the parking lot one half hour following Mass time; i.e, 4:30 PM on Saturdays, 10:30 AM on Sundays and 9:30 AM on Wednesdays and Fridays. Because of Covid-19, only 65 attendees (25% capacity) are allowed per Mass. Face coverings and social distancing are required and temperatures will be taken prior to Mass. Dispensation from the obligation of attending Mass in the Church continues. Mass can be seen online at smgcv.org, select the Facebook icon at the top of the page. In addition, St. Maria Goretti Church will be open for quiet visits from 9:30 A.M. until 2:00 P.M. on Tuesdays, Wednesdays and Thursdays. Feel free to stop by for prayer time or a rosary. Please use the provided disinfectant to wipe down the pew before you leave. Thank you.
---
WARNING ABOUT RISK ASSUMED BY PARISHIONERS: While our parish staffs will attempt to take appropriate precautions consistent with the advice of public health authorities, parishioners and guests should understand that they assume the risk of contracting COVID-19 anytime they enter a public space since such precautions do not eliminate the risk of infection.
COVID Checklist
Online Catholic Masses
Mass-Online.org
ewtn.org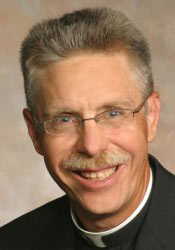 To reach Father Tony, call
309-581-2923 and Press 1.

Jesus said, I am the Good Shepherd. That is the opening line of our Gospel today on this Fourth Sunday of Easter. The image of Jesus as the Good Shepherd has deep roots in the story of Israel...
Greetings From the Pastor's Desk