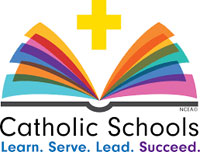 CATHOLIC SCHOOLS WEEK
January 27, 2019 - February 2, 2019
Catholic School Week is the annual U.S. celebration of Catholic education.
This designated time each year is celebrated with many special events. This is the time to focus on the value of Catholic education and its contribution to our churches, our communities, and our nation. More info...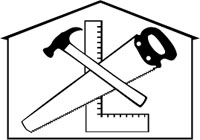 Renovation Committee Activities
In May 2018, numerous Parish members were polled to determine Parish improvement priorities. Parish members overwhelmingly recommended replacement of the church carpeting and lighting and sound system improvements, all of which are more than thirty years old. The Renovation Committee (RC) was formed in early October 2018 to develop plans to implement the wishes of the parishioners. Following several RC meetings, a truck ran into the corner of the church on 25 October so the RC temporarily halted its work.
As the RC developed a better understanding of the repair process, several aspects emerged: 1) Our insurance will cover substantially all the damage and associated repair to our church; 2) It is estimated that we will not be able to use the church itself for services until Spring 2019; 3) Because of damage to the existing carpet, the carpet in the entire church will need to be replaced and will be paid for by insurance. Our old carpet color is no longer available; 4) To replace the carpet will require all pews to be removed.
In light of the pews having to be removed, it presents an ideal time to replace the light and sound systems prior to putting in new flooring We have reactivated the RC and we are looking at various floor covering options. Insurance will pay to provide similar quality carpet to what we have today; however, many parishioners have suggested we consider other floor covering options, which we are doing. There may be a cost increase compared to what insurance will cover and the Parish will need to make up any difference. The committee has retained John Mahon, an architect from Bracke, Hayes, Miller, Mahon Architects LLP to assist us in developing proposals for floor covering in the church nave and sanctuary, ceiling lights for the entire church and audio system improvements for the church and church hall. We also need to assess how the Parish will fund any improvements the RC recommends.
The RC will communicate updates as we progress. Your Renovation Committee (RC) members are: Father Tony Ego, Roberto Alleruzzo, Willie Dukes, Mary Heiar, Henry Hicks, Randy Jaminet, Jack and Mary Knepp, John Kratt, Mary Ann Lapaczonek, Emil Maslanka, Ron and Peg McDermott, Brian and Camy Stone and Aaron Venker. Please direct any questions you might have or share your comments with committee members.
We find it hard to find the words to say how glad we are that you are here today. Located in Coal Valley, just minutes south of the Quad Cities International Airport on US150, Saint Maria Goretti is made up of many diverse and talented faith-filled people who try to serve the church and our community through our Christian service.
Please take the time to look and see the many opportunities that are available in our parish.  We are a loving and growing parish that seeks to make Jesus alive and present in our church and community.
We invite you to come explore with us what God is saying to you.  Come celebrate mass with us and join in a ministry.  We would love to have you.
Do you want to learn more? Click here.
Feedback: Let us know what you think of the new website.  Please direct any feedback to smg@smgcv.org.