A wonderful Grand Reopening of St. Maria Goretti Parish was celebrated on Sunday, 7 July 2019 by many Parishioners and guests. Father Tony Ego and Father Duane Jack celebrated the Mass. Following Mass was a delicious celebratory luncheon.
Thank you to everyone who helped repair the church as well as those who helped prepare and serve the luncheon.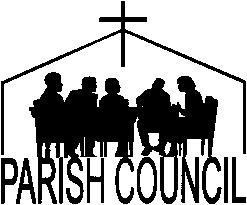 Effective 13 June 2019, the following Parishioners are now members of the St. Maria Goretti Parish Council: Emil Maslanka, President (2021), Mark Fennell, Vice President (2021), Pam Wilks, Secretary (2022) Connie Fink (2020), Patti Jo Brown (2021), Henry Hicks (2022), Dale Witzel (2020), Dale Langel, (2022), and Michelle St Clair (2020).
A huge THANK YOU to outgoing Council Members Randy Jaminet, Maureen Bennett and Lorrie Polesky for all the hours they volunteered during their terms. Their energy and commitment were blessings to our Church Community.